July 2, 2016
Secretary's Weekly Report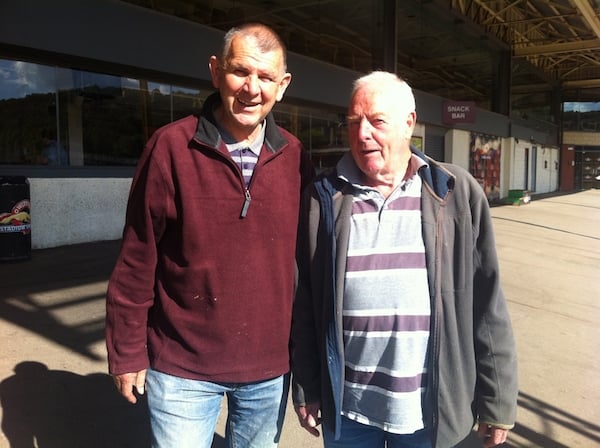 Bob McKie with Brian Shackleton of Pennine Heights fame at the Saintes marking at Sheffield
The season is simply rushing by and here we are at the 4th National race of the season upon us. Saintes is a marathon event for all Sportsman members with competing lofts flying between 600 to 640 miles.
We knew that historically race entries are small and it was no surprise that when we met up on Wednesday there were only 5 members sending a total of 13 birds. With the birds safely loaded and clocks etc sorted we had a quick presentation of the Vanrobaey Sponsorship to John Best who waltzed up with his second win on the trot when capturing 1st Ancenis.
Jeff and I travelled down to the Sheffield marking station on Thursday morning. We had a trouble free journey in glorious weather and on reaching the Greyhound Stadium it was extremely quiet and the birds were quickly marked. In Section N the total birds entered was 19 from 6 members and in the Open 3270 birds were entered by 553 members.
After sorting out the delivery and collection of a couple of strays there was time for a chat with several of the Yorkshire lads. Firstly we congratulated Ron Dennett and his son on winning Section K in the Ancenis race. This was the second time this bird had won the Section and she has gone back to Saintes with confidence.
Later we also had a chat with Brian Shackleton of Pennine Heights fame. He also had an excellent 1st Section K earlier this year from Messac another brilliant performance.
Everyone we spoke to had experienced a difficult season and were struggling to put teams together for the Blue Riband race in three week from Tarbes.
STOP
PRESS
Saintes birds liberated at 9.00am. Very difficult to see anything getting through to North East tonight, lets remain positive though!
Bob Mckie/Jeff Walton
---
Previous post
Secretary's Weekly Report
Very quiet week all round. Ancenis result and documentation sent off to NFC Secretary in good order. From what I can gauge the returns from Ancenis
Next post
Secretary's Weekly Report
Very quiet week as we start to prepare for the Blue Riband race from Tarbes on Friday 22nd July. Birds will be collected at the Sportsman on Monday