June 12, 2016
Secretary's Weekly Report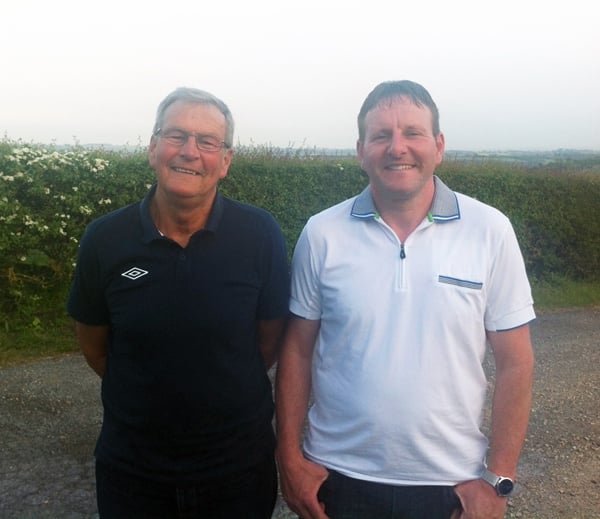 John & Steven Best 1st & 2nd NFC Section N Messac
Messac National
Initially we thought there was little chance of birds making it into the North East on the day. Whereas it looked good for the west side of the country. Towards the East of the country there had been a troublesome north east wind for around a week which would make the going tough. As the day progressed there were increasing signs that perhaps something may get through on the night especially when the cloud broke up and the sun broke through. The visibility improved immensely and it became very warm. Alas, despite this surge of optimism, it was not to be and the alarms were set for an early start on Monday morning.
Monday morning the weather was glorious and it was not long before word came through of birds arriving albeit at a trickle.
Taking 1st and 2nd Sportsman FC, 1st and 2nd Section N & the Premier Stud sponsorship of a £200 voucher to spend at the stud are new NFC members John Best and son Steven flying 471 miles into Stockton. They timed at 5.19 and 6.03am so these birds must have been pretty close to home at nightfall on Sunday. Both were hen's flying on roundabout, their first a 2013 late bred called "Gem Stone" was previously 4th club 5th Section N from Fougeres two weeks earlier, that's 900 miles in two weeks.
Their second bird comes from the Crehan & O'Connor bloodlines of RIP & Mystique. These have proved very successful for the partnership. John was telling me that he really fancied this hen which also takes 1st in the club Show Race winning £150 prize money. They also timed a 3rd bird at 8.57am to take 8th Section.
At 3rd club 3rd Section comes the very consistent Barrie Blackett of Butterknowle who timed a very promising yearling at 6.13am Barrie is always keen to push his yearlings along if fit and timed a second at 10.46am. to take 13th Section. The ever popular and consistent loft of Driver, Dawson & Dawson from Greenside flying 492 miles take 4th club 4th Section timing at 7.08am. Speaking to Robert Dawson, they were extremely disappointed at the ratio of returns both in this and the previous race and are missing some very experienced birds.
Making a strong show taking 5th club 6th Section comes the partnership of Malcolm, Heslington & Jones. These guys are quite new to National racing and full of enthusiasm for the Sport in general, their efforts earned them 2nd in the Show Race and £75 prize money.
Taking 6th and 7th club 7th and 8th Section is Bob Mckie his first bird being a 3 year old hen through his Peter Virtue stock. And his second a Cheq Pied cock being a direct son of "Dawson" who won this race and 30th Section K last season. Bob has high hopes for this bird who like the hen was sent sitting a 4 day baby. These two birds take 3rd and 4th in the Show Race along with £75 prize money the second bird also won the £10 single Nomination. In 8th club 9th Section were the consistent lofts of McSween & Sexton who timed at 9.40am.
The lofts of Mr and Mrs Murphy, Tommy & Wayne Johnson, Terry Unsworth, Armstrong, Shergold, Johnson & Moon all timed on Monday morning. Nevertheless at 8.00pm returns were poor with less than 35% back.
We now move on to the Ancenis National, but are not expecting significant levels of entry. Big well done to the race Open winners Mr & Mrs Pym & R Pym, and all Section winners hopefully we will see a positive shift in the weather in the next weeks with improved racing conditions.
Finally I just want to say a big "Thank You" to the Sid and Karen our NFC Secretaries for all their help in recent months. I know how busy they have been lately with a great deal on their plates and they deserve all our support at what is a very busy and indeed stressful time of the year.
Bob Mckie
---
Previous post
Secretary's Weekly Report
Sportsman club members Bob McKie & Gary Heslington with Nick Adshead at Messac marking at Sheffield Tommy Johnson presenting Robert Dawson with
Next post
Secretary's Weekly Report
NFC transporter Ancenis bound Jeff and I have been busy all week with the Ancenis National. As expected the race entry was considerably reduced with