June 4, 2018
Secretary's Report
The Waiting Game
There are many aspects where your patience is really tested in national racing. I have said many times before that it is not a place for the feint hearted and whilst success can come early, for most it is very much a waiting game. If you're to have any chance of success you need to carefully research your stock requirements, feeding regimes, training and race management plan. Developing a successful team of long distance national birds in the North East really does test your metal and your commitment can be pushed to the limit. One race with poor returns frequently dints enthusiasm and yet the high spots really do make it all worthwhile.
During the long winter months you can study your breeding and map out pre-race training plans but you will also need "mother nature" on your side. And as we all know this has not been the case this season with the first few weeks of the 2018 racing being fraught with "ups and downs". Racing has been badly affected across the UK and many fanciers have found themselves short on training through no fault of their own with many birds not getting the necessary hours on the wing. It is clear from recent race results that entry levels have been well down so it was no surprise when the NFC also felt the pinch for the Coutances National. However the marked improvement in weather conditions 3 weeks preceding the national probably lessened the blow because our members mustered around 6500 entries which was very encouraging considering all factors.
Toft Hill Marking Station
When Sportsman members gathered at our new Marking Station on Wednesday the 16th May there was a great atmosphere with several new members in attendance. The average distance from Coutances to our lofts is 390 miles and as an excellent pipe opener for the rest of the National programme.
We had 24 members sending around 200 birds, which were race marked crates sealed and loaded by 7pm and on their way to Sheffield where they were transferred to the NFC Transporter by 9.30pm. This gave them plenty of time to settle down for the night. Followers of the club will know that our birds have to spend an extra night in the crates, it is therefore key when preparing them that you consider adjusting your feeding regime to compensate for this.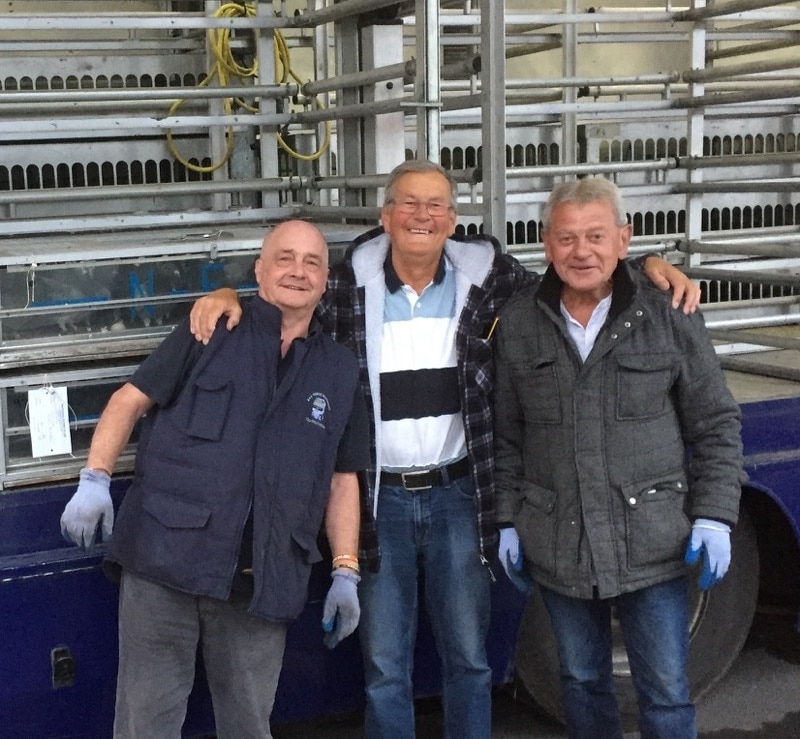 John Best with the NFC team at the Sheffield marking station loading the birds - Take note of the built-in watering system
Once marking is finished I often wonder what thought or imagination individual fanciers exercise about the challenges facing their birds both in the crates and on their journey home. And more importantly what is the psychological condition of the birds-are they calm, will they water and feed ok during the journey, is their motivation in balance. Have we done enough to ensure they are ready for the arduous fly home and hope they avoid predators and wires? Let's face it we really have no idea what perils our charges will endure and if you're like me you are always delighted to see them arriving home safely.
Race Outcome (Provisional result)
When word came through that the birds were up at 7.15am the forecast looked really promising with a warm day predicted. However the temperature was much higher than expected yet overall the conditions were good and the general opinion was 8 to 9 hours should see the leading birds reaching the lofts of our members. It was no surprise when word came through that the in-form partnership of Malcolm, Heslington and Jones at Wingate had timed 2 birds at 15.53 and 16.04 pm. (Vel.1333 & 1304 ypm) Flying 392 miles their first birds were both celibate hens. Well done lads 1st and 2nd Sportsman and a great start to the national season.
Then Bob Mckie at Chopwell flying 406 miles timed a couple of Bruggman birds from his Dave Impett stock at 16.24 & 16.33 pm to take 3rd Sportsman.
The ever consistent loft of McSween & Sexton take 4th with a 2 year old Chequer Hen bred by Nick Adshead of Selby.
We then have Alf Fellows one of our new members flying at Ferryhill timing at 16.03pm flying 390 miles. (Vel. 1299 ypm) Alf sent 3 full sisters and had all birds back in good order.
Several members had their clocks checked including John Fellows, Jim Nicholson, Brian Caley, Jeff Walton, Tom Cuthbertson & McWilliam, Thurlow, Strong, Fisher & McCluskey, Brian Wiemer, Barrie Blackett, Brian Caley and Ken Dodds our longest flier at 410 miles out at Hexham.
Overall returns were good with the odd exception.
Sponsorship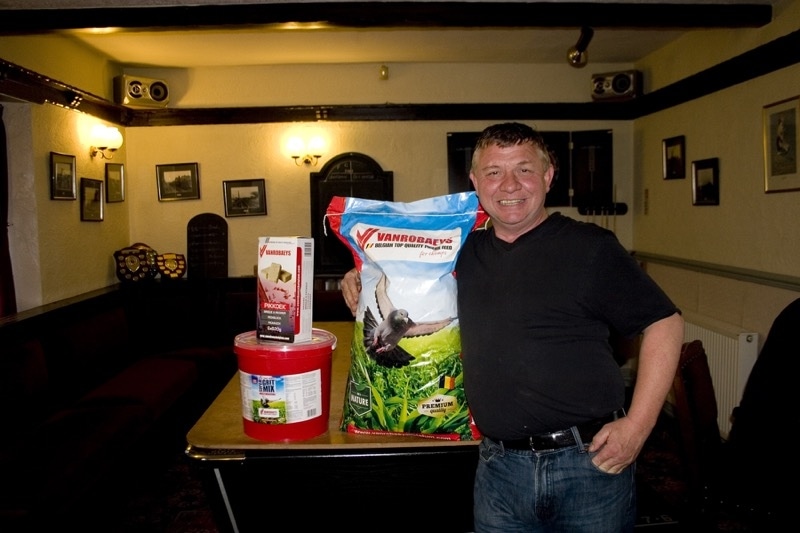 Gary Heslington of Malcolm Heslington & Jones with some of their Vanrobaeys sponsorship for the Coutances race
Malcolm, Heslington & Jones win the Vanrobaey race sponsorship prize which includes 2 Bags of their No 56 and a range of products including a 10 kilo tub of grit, pickstones etc.
Interestingly enough many of our members now use Vanrobaey Feeds with their Premium Power range of corns regarded as ideal for national racing.
NFC

Website

Unfortunately due to problems outside of the NFC control we were not able to enjoy the fun of seeing how the race was developing via the leader board. Nevertheless it was great to feel the excitement once again of racing against some of the best lofts in the UK. Hopefully everything will be OK for the Messac National.
Social Media
This is a very powerful tool when used in a constructive and positive manner. However it can also be very destructive and harmful to our sport if users lose sight of protocol and forget that the rest of the world is only a click away.
Whist individuals may be passionate about the sport we all need to exercise a degree of caution when hitting the keyboard. Thankfully we are all free to express our personal opinion and criticise the establishment by utilising social media. But not everyone is hooked on this communication channel indeed probably far less than 50% insofar as pigeon fanciers are concerned. We must therefore endeavour to work harder in an attempt to engage more of our members. But and this cannot be over stated remember whatever medium we choose there are organisations out there looking for an "edge" as a way of curbing the sport of racing pigeons. Animal Rights Groups are alive and kicking we are firmly in their sights under the banner of protecting animal welfare so please be careful what you say.
Finally if you have any ideas or proposals for improving the NFC please do something about it. Submit these to the NFC Secretary for consideration and copy me in and I will follow them up.
Bob Mckie/Jeff Walton
M. 07828961442
E.mail bmckie@tiscali.co.uk
---
Previous post
Sportsman FC NFC Coutances Nat flown 19th May 2018
See Race Info page for Coutances result. Due to the NFC website being down and some members details not being available, this is only an indication
Next post
Secretary's Report
After a satisfactory first national from Coutances with good returns the expectation was that we would have an improved turn-out for Messac. However